Glad you are here,
Thompson Aire is a Family owned and Family operated balloon business.  We love what we do and we love making first class memories for you and your family.  We fly more personal balloon systems.  This allows our pilots to spend more time with each passenger creating a more personal experience.
There are many things that set Thompson Aire Balloon Rides apart from all others.  Not only do we fly smaller more personal balloons for the best overall experience but our balloons also have SEATS in them!  Great for kids and those who do not want to stand for an hours flight.  Our pilots are highly skilled and ranked as some of the top pilots in the country.
You may find cheaper rides on the internet.  There are many reasons for this.  First is they do not have family rates.  The fee is per person and it may be less than our adult rate but when you are paying full price for the teens and children your over all total will be higher than ours.  One of the biggest reasons a company may charge less, is that you will share your flight with up to 20 other people.  Make sure you ask how many others will be sharing your special family event?
Honestly the price difference will completely go away with the first class service you will receive.  Go to the  Guest Book  and read what others have said and then Call Thompson Aire!
Thanks  Jeff A Thompson

Simply the BEST BALLOON PROGRAM!
Hot Air Balloon Flights operated by Thompson Aire are conducted 7 days a week at sunrise.  Capt Thompson is the most experienced hot air balloon pilot in the Orlando area.  Jeff has been  licensed to fly balloons for over 40 years.  Passionate about flying his entire life, his enthusiasm and knowledge will have you spellbound.
If you are going to be in Orlando or coming to the Disney parks don't miss one of the most spectacular rides of your life.   See the real Florida by floating effortlessly across the pristine beauty that is the real Florida.  Tour areas absolutely untouched by human hands.  Nature in all of its awesome glory.  This is an experience you will talk about the rest of your life.  Thompson Aire provides hot air balloon passenger flights 7 days a week in and around the Disney World area of central Florida. Please remember balloon flights are weather permitting and we can not control the weather on any given day.  Safety is our badge of honer and we will not tarnish it.
Capt. Thompson is a 40 year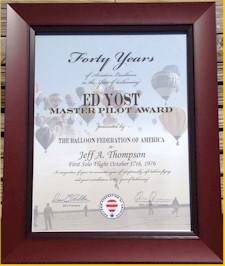 veteran balloon pilot.  As a resident of Florida for over 20 years, his knowledge of the area is an education in itself.  His skills as a pilot will simply astound and amaze you.  Yes there are others you can fly with but none with the passion and expertise as Thompson Aire.  Please do not take our word for this, read our guest book for comments directly from our passengers.
Earning his pilots certification at age 16 Captain Thompson's life ambition has been this mesmerizing form of flight.  No matter what your age you will be entertained and in awe with this spectacular old world form of flight.

Space is limited and flights are weather permitting so book your flight in advance! Want to see more video about ballooning hosted by our very own Capt Jeff.
Offering Hot Air Balloon flights, Balloon rides, aerial tours, rides, sightseeing trips, weddings, flight instruction and family fun!