Balloon Flight Program
Our flights are flown daily at sunrise.
We start our program at 6am.  Plan on three to four hours outside.
We will start our adventure with a pre-flight briefing at our meeting spot, Here we will introduce you to your pilot.   We will talk about your mornings adventure and answer any questions you may have about the flight.
We have found that people enjoy the whole program even more when they know what to expect each step along the way.
After our pre-flight briefing we will launch a small helium balloon to determine the wind direction for the morning. Each flight is different and how we navigate a balloon is by using wind layers at different altitudes. We spend time to explain this all along the way.

Balloons float with the wind and we want to make sure we have landing fields in the direction we are going.  Once we have selected a launch site we will climb aboard our vehicles and head to the launch site.
At the launch site you may become a member of the ground team as we inflate the balloon and prepare for flight.  Many people love our hands on approach.  To help or not is your choice.  Once the balloon is inflated and ready for flight you will board and lift off into the heavens.

Our flight will last approximately an hour.  During the flight we will point out all of the spectacular sites this area has to offer.  Make sure your batteries are charged on your camera and maybe an extra set or another memory card to be safe.  The area we fly has a great variety of things to see.  The entire area is a great mix from swamps and forests to resorts and residential.  Theme parks and wildlife.  You may see a 4 foot alligator or even a 4 foot tall mouse.

As we mentioned above we plan our flight using the layers of wind in the atmosphere.  We do our best to create a flight plan where we can both fly up high and have a look around and also come down to the tree tops and view the swamps and forest up close where you can actually see the wildlife!
At our landing site our ground support team will be waiting for us.  Once the balloon has been stored away we will have the traditional champagne toast.  We will explain some of the history of balloon flight as well as how the tradition of champagne upon landing came about.  You will also be presented with your Thompson Aire custom champagne cup!
Our Flight program also INCLUDES an official first flight certificate signed by your pilot and your photograph embedded in your name on our TA Flight Calendar online so all your friends can see you in your balloon.
Plan on about 3 to 4 hours for the entire trip.
Don't want to fly but want to come along?   Ask about the Chase Package.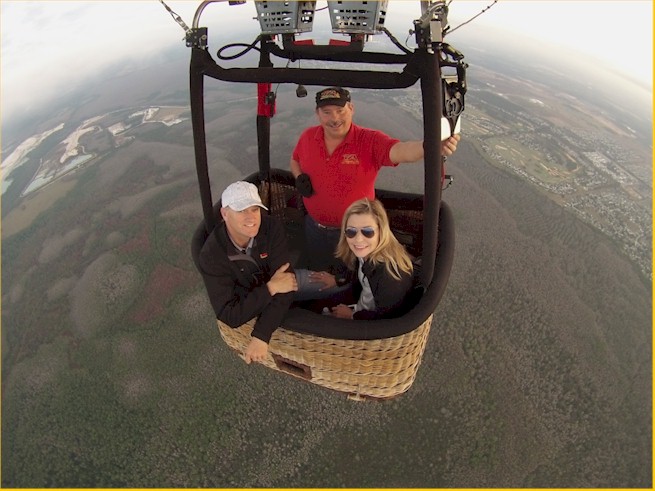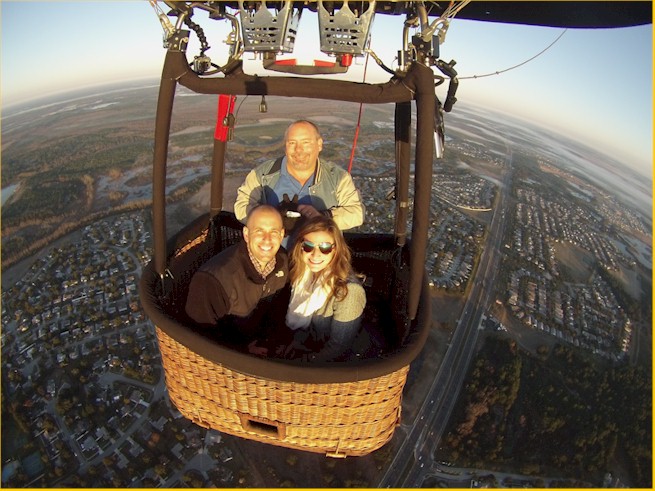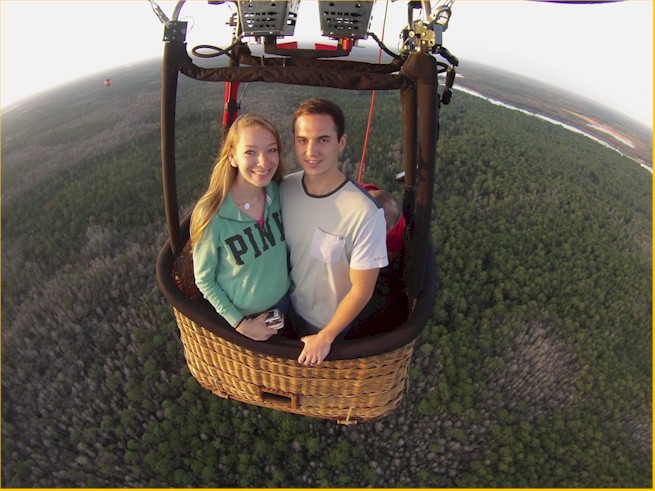 Included in our program.
Pre-Flight briefing with our pilots & ground teams.

Pre-Flight Navigation demonstration. (Explaining the Corona Effect)

Transportation from our meeting location to one of our many launch sites.

You are allowed to Participate in the inflation of your Balloon.

(voluntary)

Photo of your group in the balloon.

(Posted to our Calendar after the flight)

Approximately one hour of flight in the Disney World area.

Champagne ceremony after the flight with a brief history of balloon flight.

Custom souvenir Thompson Aire Champagne cup.

Transportation back to the meeting location from landing site.

Official First Flight Certificate.

Souvenir balloon photos and video available online.

All the bad balloon jokes you can stand.
(Family Rates)
Adult Fare $235.00 per Person (Adult)
Jr. Adult Fare (5 to 15 Years) $165.00
Children under 5 are not allowed.